Tabriz Province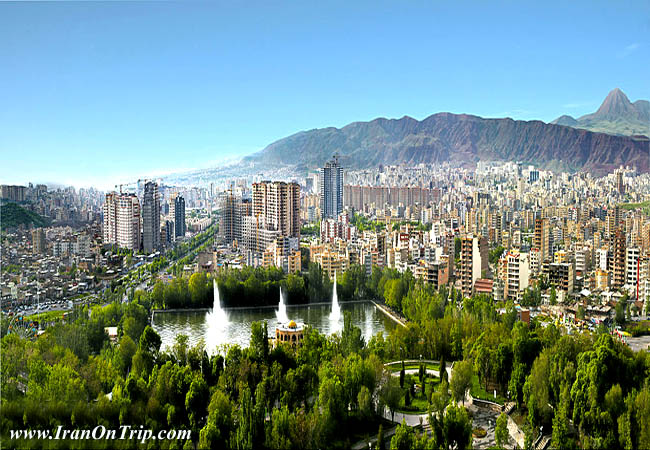 Tabriz, the capital city of Iranian province of East Azerbaijan witha population around 1,500,000 lies at 46.13 east and 38.8 north with an altitude of 1363 meters above sea level. The temperature varies between +38oC and –15oC.
The city is located on the intercontinental highway in vicinity to the Republics of Azerbaijan, Turkey and Armenia. Tabriz for a long time lay on a major trade route between the West and Asia and for many centuries it was a flourishing center of commercial trade. Outside Tabriz, there is a lot of attractive countryside with hills, valleys and mountains that can be reached quickly and easily. These hills are summer and winter resorts
Historical city of Tabriz or "Tauris" as Europeans would call in old times is widely believed to be one of the most ancient cradles of civilization in Azerbaijan and Iranian plateau. It was the capital of Atropatene, named after Atropates, one of the generals of Alexander the Great. We know from the discovered historical documents that the name; Tauris, for the first time, has been mentioned in an epigraph inscribed on an old stone tablet considered as belonging to Sargon (II), king of Assyria (714 BC). In this ancient inscription, the king reports of a strong castle called "Tauroei"Today most archaeologists and historians believe this castle was situated on the site of the present city of Tabriz
On the strength of the writings of some famous historians, researchers, and travelers such as Marco Polo, Chevalier Chardin, Harold Lamb, Iean Babtiste Tavernier and Ebne Batute, the old city of Tabriz with a population exceeding 1.2 million in the Middle Ages, was one of the biggest, richest and most important centers of commerce in the world. According to some other reports, there were as many as 200,000 residential houses in the city of Tabriz at the time.
The city lies within an active earthquake belt; as a result of this inescapable situation it has suffered severely over the centuries. It was re-built in 791 AD after being devastated by a catastrophic earthquake but similar disasters followed in 858, 1042, 1721 and 1780, to claim the life of thousands of people, leaving a completely ruined city.
Near the end of 13th century, Tabriz became the capital of Mongol IL-Khan empire. Marco Polo, who visited the city in 1270, called "Tauris" (Tabriz) a great and noble city. In 1392 it was occupied by Timor (Tamerlane), a Turkic conqueror and some decades later the Kara Koyunlu Turkmen made Tabriz their capital. Early in the 16th century it was briefly the capital of Safavid dynasty of Iran until 1548, when Shah Tahmasb (I) moved his capital to Qazvin. The city ,however, lay directly in the path of the warring armies of Iran and the Ottaman empire; thus frequently suffered heavy loses. Due to these ever-present unstable conditions, the city failed to regain it's early prosperity, although during the 19th and early 20th centuries it was traditional for the crown princes of the Qajar dynasty to live in Tabriz.
Among the cities of Iran, perhaps none is as renowned as Tabriz. Specially after the beginning of the constitutional era, when it achieved all those heroic victories in those revolutionary movements, Tabriz gained more prominence both in Iranian and European newspapers. Constitutional Revolution originated in Tabriz and culminated during the reign of Mohammad Ali Shah of Gajar Dynasty (1779-1925). Sattar Khan and Bager Khan were the two most prominent leading figures behind the movement. The name Tabriz, has been one of the most famous terms in Iran's geography and in each century it's name has been synonymous with momentous historic events.
With a very rich history, Tabriz used to house many historical monuments.
Unfortunately many of them were destroyed in wars, natural disasters such as earthquakes and floods, as well as negligence of the ruling governments. There are, however, still remains of several historical monuments for visitors dating back to the Ilkhanids, Safavids, and the Qajars, such as Ark Alishah (1316-1335), Kabud Mosque (1465), Bazar, promenade Elgoli with it's lake and building, city hall and some other interesting places. Tabriz is also famous for it's handicrafts (especially Azerbaijan artistic carpets). There is an archaeological and handicrafts museum in which antiquities from Azerbaijan and other areas are on display.
It is worth mentioning that in the course of it's long historical presence of more than 3000 years, Tabriz, though has experienced a great many tragic events and misfortunes such as earthquakes, floods and bloody wars; it has, however, patiently maintained it's existence throughout the history of mankind in the face of hardships and adverse conditions as before.
Cities of Tabriz
1- Bazaar of Tabriz
2- Churches
3- Kandovan Village
4- Behnam House
5- Ark Or Citadel Of Tabriz
6- Constitution House
7- Blue Mosque
8- Ostad and Shagerd Mosque
9- King Hassan Mosque
10- Sadeqiyeh Mosque
11- Golestan gardens
12- El Goli or Shah-Goli
13- Azerbaijan Museum
14- Amir Nezam House
15- Thermal Springs
16- Poets Mausoleum - Maqbaratoshoara
Bazaar of Tabriz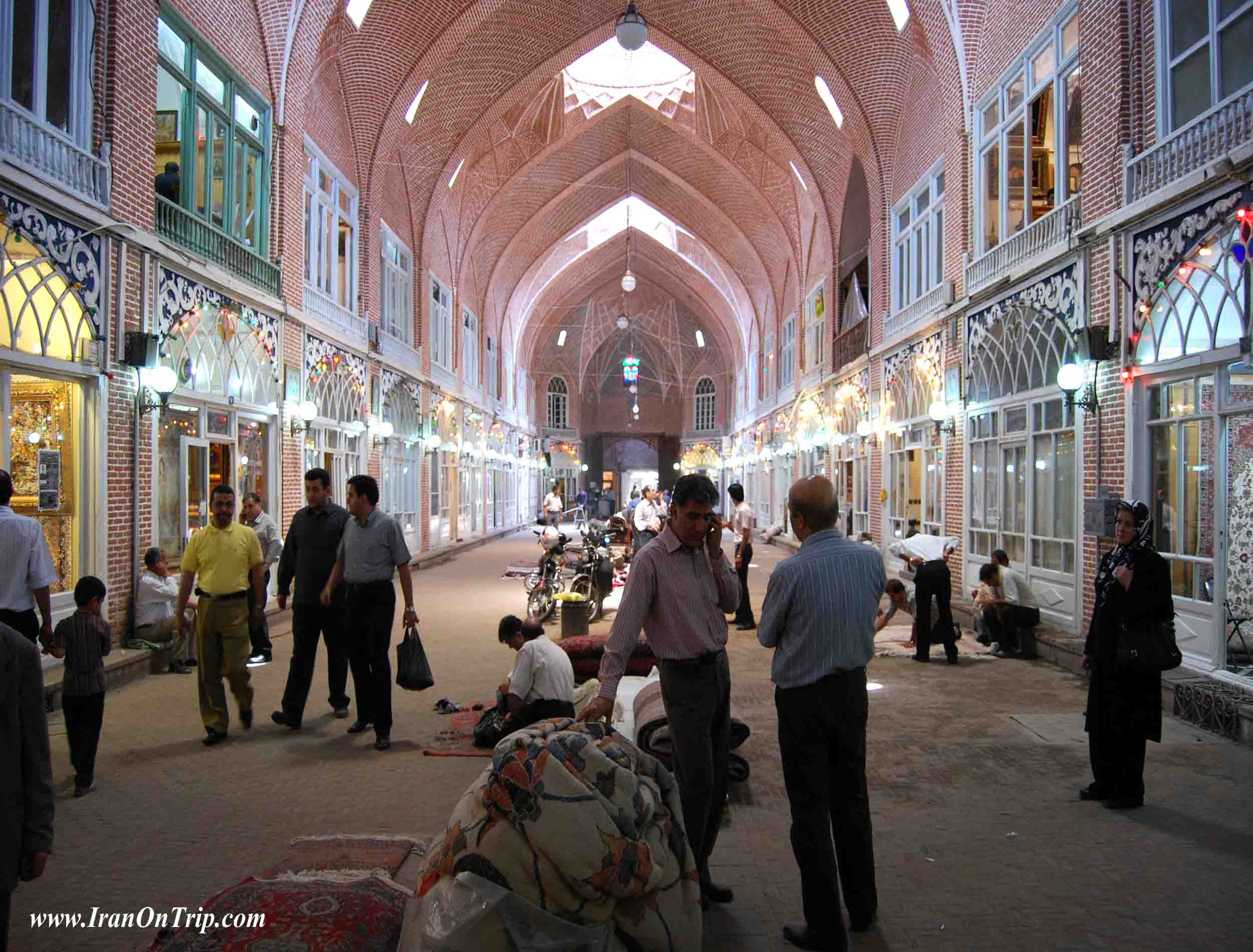 Bazaar:
Strolling in the centre of Tabriz, one is reminded very forcibly that it is a commercial city: one cannot miss its very large and 15th-century covered bazaar. It is already much diminished in its variety of goods, but still a great place for getting hopelessly lost amid its dusty architectural splendours. Its architectural style, numerous caravanserais, mosques, and schools have added further beauty and glory to this complex. Exact information on the history and origin of the bazaar is not available; however, historical buildings such as the Jam's Mosque, Talebieh School, and Sadeqieh School indicate that the complex is one of the oldest structures of the city. The present structure of bazaar dates back to the closing years of the Zand dynasty (1750-1779 AD)
Churches
Churches

:

From the earliest days of Christianity there has been a sizable Armenian community in Tabriz, and the city boasts a number of churches, including one mentioned by Marco Polo on his travels. Nowadays, Tabriz has six churches, the most important of which are: Saint Serkis Church, located in Armenian quarter of Tabriz, Baron Avak, which was renovated in 1845; probably the most interesting and the oldest but substantially rebuilt Church of St. Mary (Kelesa-ye Maryam-e Moghaddas) which was completed in 1785, on the corner of North Shari-ati av. and Jomhuri av.; Able Mary Church which was built in 1910 and is on Miar Miar quarter of Tabriz.
Kandovan Village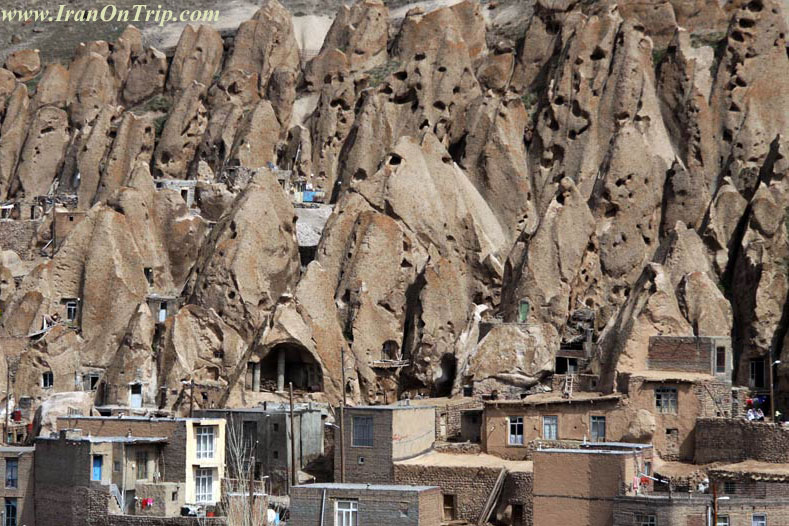 Kandovan Village
: known as the Iranian Cappadocia, it is located in a cold mountainous area at 50 kms south of Tabriz and on the slopes of Sahand Mountain. Kandovan's claim to fame results from its cone shaped mountains with troglodyte homes. It is very cold for about 9 months of the year, however the caves make very energy efficient homes, with an almost stable temperature year round. The area is reputed to have the cleanest air in the country
Behnam House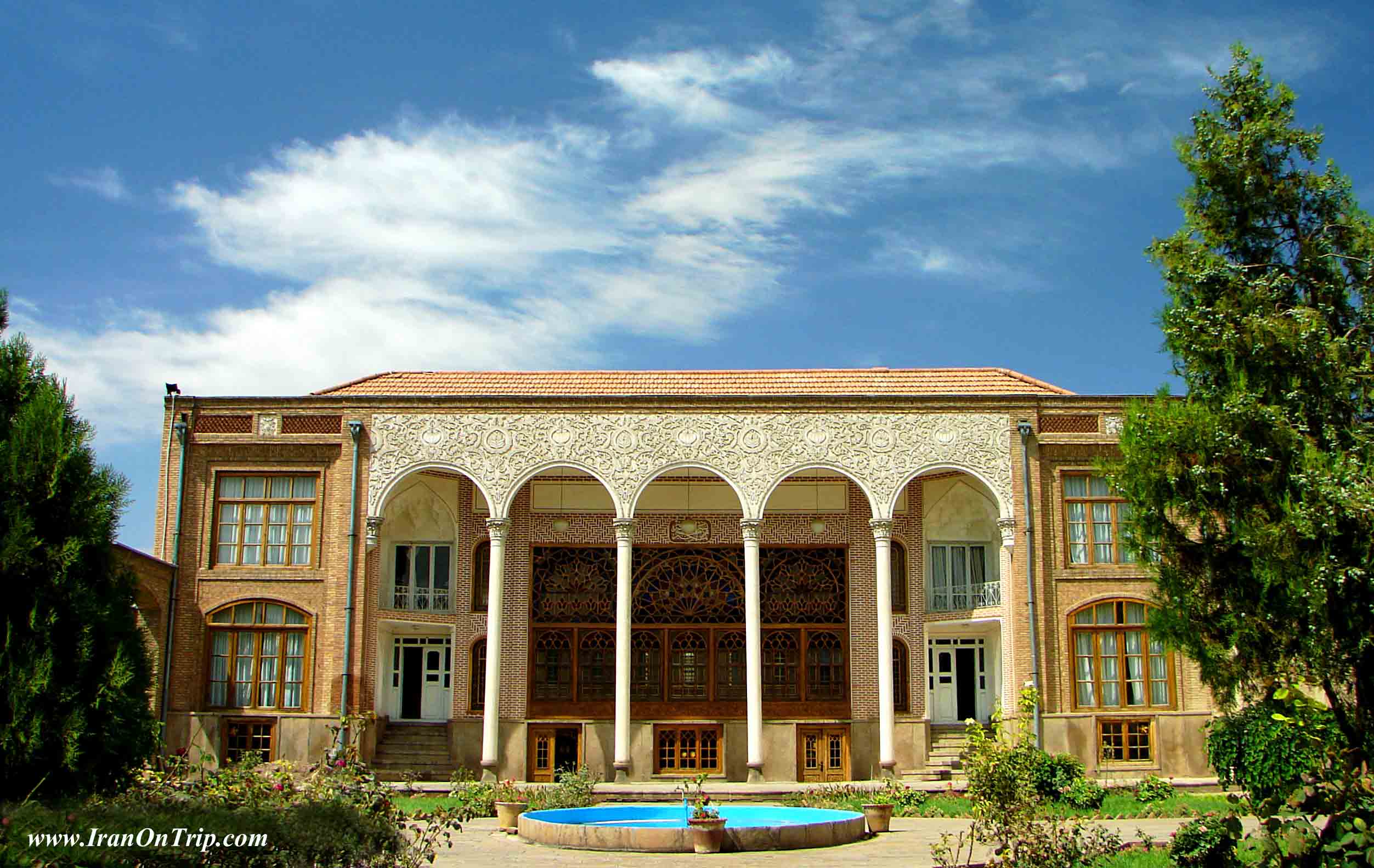 Behnam House
: elegant residence built at the end of Zandiyeh dynasty. Some parts of it the survived earthquake in Tabriz in 1780 (lunar year of 1194).
Ark Or Citadel Of Tabriz
Ark Or Citadel Of Tabriz
: 'Ark-e Tabriz' in Persian (also called Masjid-e Alishah, Arg-e Alishah) is the impressive remainder of a great and imposing building in the town. The Arg, a huge and crumbling brick citadel, is a notable landmark that was built in the early 14th century on the site of a massive mosque which collapsed over 500 years ago, and which must been one of the largest ever constructed. Inside the Citadel there is nothing except two arches and an indication of the position of the mehrab; Ali Shah's court has been covered with ignoble buildings, the sanctuary walls have been rebuilt and propped up, and it is hard to believe that any part of this place was ever a mosque.
Constitution House
Constitution House
: located next to the Tabriz grand bazaar, on Motahari av. During the years which led to the Constitutional Revolution and afterwards, the house was used as the gathering place of the leaders, activists, and the sympathizers of the movement, among them Sattar Khan, Baqer Khan, Seqatoleslam and Haji Mirza Aqa Farshi. The two-story building was constructed in 1868 by Haj Vali Me'mar-e Tabrizi. It has numerous rooms and halls. The most beautiful part of the house is a skylight and a corridor decorated with colourful glasses and mirrors.
Blue Mosque
Blue Mosque
: (or Masjid-e Kabud) on the north side of town, is a 15th-century structure destroyed partially by one of Tabriz's recurrent earthquakes. The entrance portal with its two minarets appears to have been connected with the main prayer hall (Shabestan) under the largest cupola of the mosque, by means of vaulted corridor. On both sides along the corridor, there stand the remains of the chambers with vaulted roofs. The walls of the mosque have been riveted with marble slabs and decorated with superb mosaic tiles. Some of the blue mosaics in the mosque's portal are heavily damaged and half missing.
Ostad and Shagerd Mosque
Ostad and Shagerd Mosque
: This mosque, including a theological school dates back to 1340, and was founded by Amir Sheikh Hassan Kushak. It was destroyed and renovated during the Qajar dynasty.
King Hassan Mosque
King Hassan Mosque
: (or Hassan Padeshah) it was built in the 15th century and is located beside the Saheb-Abad square, the adjacent theological school was partially demolished in 1966.
Sadeqiyeh Mosque
Sadeqiyeh Mosque
: it is located on the northern part of the main bazaar. The construction of the mosque was completed in 1657 at the time of Safavid king, Shah Abbas II. The monument has a sanctuary with columns and a number of cells.
Golestan gardens
Golestan gardens
: Also called the National Park, the garden is one of the main recreation centres of the city and covers an area of 53,000 square meters. It was built some 70 years ago and has many huge pools surrounded by green and trees.
El Goli or Shah-Goli
El Goli / Shah-Gol
i
: a pleasant hillside garden and park around an artificial lake to the area of 54,675 square meters. El Goli, only 4 km south of downstream Tabriz, is so lovely a place that it deserves an illustration. It is a popular weekend resort for the locals (there is a hotel at El Goli). A hill in the eastern side of the park leads down to the pool with steps, and a fountain from top of the hill flows down to the pool. In the center of the pool there is a grand hexagonal building. The pool itself is said to have been built during the reign of Aq Qoyunlu kings. However, it was extended by the Safavids.
Azerbaijan Museum
Azerbaijan Museum
: inaugurated in 1962, is on Khomeini av. (next to the Blue Mosque). With an area of 300 square meters, it consists of three main halls in which historical articles, costumes of various tribes of Iran, works of renowned calligraphers, as well as a collection of pictures, tracts, declarations, documents, and personal articles of the leaders of the Constitutional Revolution are on display.
Amir Nezam House
Amir Nezam House
: the Qajar Museum of Tabriz - historical building in the Shesh-gelan district, one of the oldest quarters of the city. The edifice covers an area of 1200 square metres. Built in the period of the Crown Prince Abbas Mirza (1789-1833). Between 1993-2006 it was subject to an extensive renovation process and has been granted the National Heritage status.
Thermal Springs
Thermal Springs
: There are so many thermal springs in Tabriz Township which are used as a remedy by many people, such as: Sofiyan, Kandovan, and Bostan Abad.
Poets Mausoleum - Maqbaratoshoara
Poets Mausoleum
- Maqbaratoshoara: interesting modern architecture using concrete - a Trabizi pantheon for the local intelligentsia, in particular poets. Great attention is dedicated to Iranian Azeri poet Mohammad-Hossein Shahriar, famous for his Azeri work 'Heydar Babaya Salam' and a supporter of the Islamic regime.
.....
.....
.....