Spas (mineral water)

as a fantastic phenomena because of cerement characteristic, has always been interesting for tourists, specially in Iran. Every year thousands of tourists come to Iran to take bath in Iran mineral water pool for different diseases, like skin diseases, nervous valmative and etc.



Springs and Spa Centers, Iran Natural Tourist Attractions


Sar Ein Spas

The Sar Ein or Sar Ghein village, a district of Irdimoosi village, is located in the west of Ardabil city and is only 28 kilometres from the city of Ardabil and 6 kilometres from the Ardabil - Tabriz road. The hot mineral waters of Sar Ein are products of the volcanic activities of Milan mountain. The following lists the most important spas of this region.

Read more
Mahalat Thermal Spring, Mahalat



The Mahalat thermal spring is located to the northeast of Mahalat city. This spring is one of the most important mineral water springs in Markazi province. It is one of the deep thermal springs which become warm through vapors of burning stones of inner layers of the earth and finally reach the surface. The Mahalat Thermal Spring has attracted tourists since long ago. Every year thousands of people come to this area from far and near by vicinities, in order to cure their skin or bone diseases. The temperature of the water is 50 centigrade and is effective in healing different kinds of diseases such as gout, diseases related to kidneys, liver, etc. There are two different kinds of thermal springs in Mahalat according to their chemical compositions and effects. These are called, healing water and rheumatism waters. The best season to make use of Mahalat thermal springs is spring and summer. Near these thermal springs, many hotels, a tourist lodge and a public bath was built. The inhabitants believe that the amount of warm water has increased after the earthquake which took place 40 years ago. Near the Mahalat thermal spring, there are several mineral springs. The most important ones are: the Shafa, Soleiman and Hakeem Springs which are effective in healing many skin and rheumatic disorders.

Genoo Thermal Spring, Bandar Abbas

This spring is situated at a distance of 34 km. northeast of Bandar Abbas and alongside the Bandar Abbas - Sirjan Road. The water from this spring which is calcium sulfuric in nature is used for irrigating the palm groves or plantations and also for bathing purposes. This spring is equipped with two segregated pools for ladies and gents.
Badab Sourt

Spas

Location: in Mazandaran Province in northern Iran, 95 kilometres (59 mi) south of the city of Sari, and 7 kilometres (4.3 mi) west of Orost village.


Days of trip:

(Without plane) 2-3 Days from Tehran to Tehran (Without heavy traffic you need 5-6 hr driving from Tehran to Badab-e Surt,Distance from Tehran to Badab-e Surt is 371 Km)


Attention:

In holidays there is heavy traffic in all roads around Tehran.


Best time to visit:

No Limit, Spring is the best time.


Daily time visit:

No limit


Difficulty level:

Moderate- 1-2 hr Walking


Requirements:

(Depend on your plan) Guide or GPS track, water, food, warm and waterproof clothes and tent, waterproof shoes, headlamp


Legal permission need:

No Read more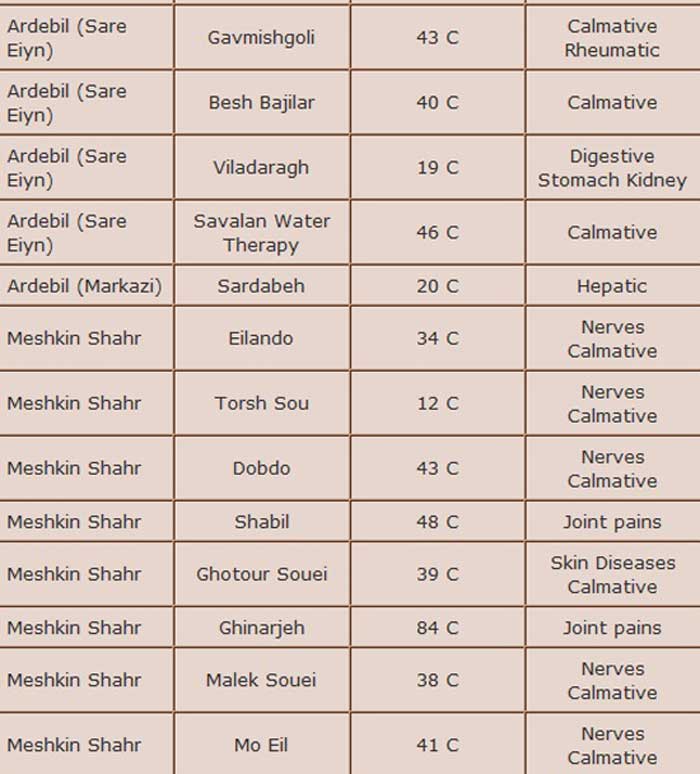 .....
.....
.....