Shiraz Hamam-e-Vakil (Bath)



Hamam-e-Vakil

(

Bath

) , Karim Khan Zand , Vakiloroaya (Defender of the people)
Some beautiful monuments remained from Karim Khan Zand who named himself Vakiloroaya in Shiraz . In addition to governmental buildings there are some constructions and palaces used to be ceremonies and residence .Some mosques , bazaar and caravansi known as Vakil ; one of them is Hamam-e-Vakil (Bath) which is 11,000 sq. m. , the square footage is 11,000 meters , the length is 120 m. and the width is 80 m. ; it was built by order of Karim Khan Zand on Taleghani st.in Darb Shazdeh district in 1187 (Lunar) A.H.

The bath had been built according to the most advanced principles of architecture of the ; for example , the entrance is small and has a modte steep hallway led to a vestibule lower than the th level . The cloakroom entrance is angular to prevent cold to enter and heat to exit . The hot chamber is paved with stones under which is a narrow corridor through which heat weather and steam passed to heat the bath floor sooner . In the south of the bath there is the reservoir with two great boiler to heat the water . Also there is a marble pool in the middle of each alcove . Some beautiful designs under the dome show some religious , love , traditional and fictional tales .

Working glazed tiles above the mosque there is an inscription of Koran verses with the date 1306 A.H. (Lunar) written in Sols writing in the name of Fathali Shah by Hossein Ali Mirza.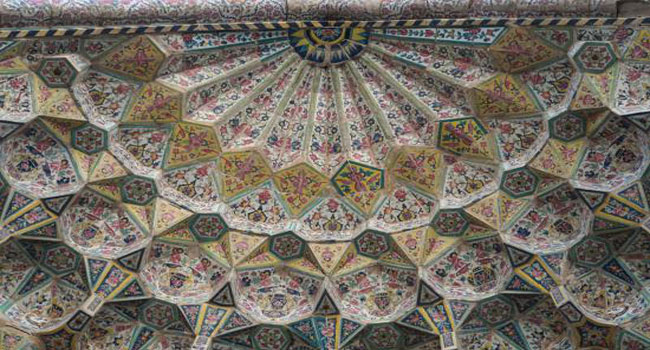 .....
.....
.....